SOUND® is proud of our American-made, ecologically clean, natural products. SOUND® products are made in the USA and bottled, packaged and shipped to you by our family in Southern California.
Click on the thumbnail below to download a PDF file of our Product Specification Sheets.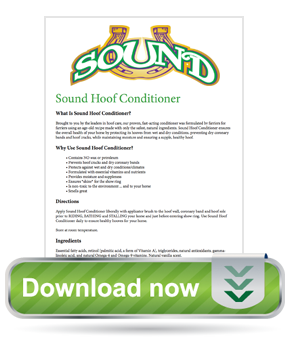 We are very pleased to share with you this information about our premium products:
SOUND® Hoof Conditioner
What Is SOUND® Hoof Conditioner?
Brought to you by the leaders in hoof care, our proven, fast-acting conditioner was formulated by farriers for farriers using an age-old recipe made with only the safest, natural ingredients. SOUND® Hoof Conditioner ensures the overall health of your horse by protecting its hooves from wet and dry conditions, preventing dry coronary bands and hoof cracks, while maintaining moisture and ensuring a supple, healthy hoof.
Why Use SOUND® Hoof Conditioner?
Contains NO wax or petroleum
Prevents hoof cracks and dry coronary bands
Protects against wet and dry conditions/climates
Formulated with essential vitamins and nutrients
Provides moisture and suppleness
Ensures *shine* for the show ring
Is non-toxic to the environment … and to your horse
Smells great
Directions
Apply SOUND® Hoof Conditioner liberally with applicator brush to the hoof wall, coronary band and hoof sole prior to RIDING, BATHING and STALLING your horse and just before entering show ring. Use SOUND® Hoof Conditioner daily to ensure healthy hooves for your horse.
Store at room temperature.
Ingredients
Essential fatty acids, retinol (palmitic acid, a form of Vitamin A), triglycerides, natural antioxidants, gamma-linoleic acid, and natural Omega-6 and Omega-9 vitamins. Natural scent.