The Story of Sound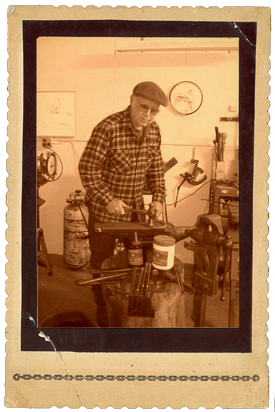 We never planned on creating the world's finest hoof conditioner.
SOUND's flagship product, SOUND Hoof Conditioner, was first produced in the mid 1990s by professional Farrier, Bob Phalen. During his long career Bob had always used an old world, imported hoof dressing on his own and his customers' horses. When the product suddenly became unavailable, Bob was forced to seek out an acceptable alternative.
Bob took the time to carefully test all the available products on the market and, one by one, found them to be mass-produced, inferior products that didn't measure up to the old-world formula he and his customers had become accustomed to. Over a shoeing cycle, hoof growth was noticeably slower and hooves were brittle instead of supple.
A diligent research of the ingredients used to produce the products available on the market caught Bob by surprise. Although the products were marketed as being formulated with all-natural ingredients, they ALL contained toxic chemicals like turpentine and petroleum as their base. Bob wondered why those who cared for their horses would expose their beloved animals to these harmful chemicals that didn't work well anyway.
An old-world recipe is rediscovered
Thus began Bob's quest to rediscover the old-world, high quality, all natural hoof dressing recipe lost in the advancement of modernity. Bob carefully combed through every historical source he could find, from 19th century US Cavalry manuals, to journal accounts written by Spanish colonial soldiers that referenced cracked hooves. Over the next several years, Bob performed controlled experiments with various combinations of the most simple natural ingredients he had collected. Bob produced hundreds of different recipes that ALL outperformed the modern, mass-produced products.
After seven years of research and development in his work room, Bob believed he had created the definitive hoof dressing. He began using his new product on horses in stables all over Southern California. Horse and stable owners were astounded by the difference in their horses' hooves over a period of just one shoeing cycle. And how did Bob know that his product was completely non-toxic? His formulation was edible.
A premium, non-toxic, environmentally safe product is born
As word spread about Bob's safe and effective product, he was inundated with calls from horse and stable owners who wanted to purchase this old-world farrier dressing. The commercial potential of Bob's concoction was obvious. A farrier at heart, and not a business man, Bob resisted the commercialization of his recipe until a customer said, "Bob, all horses deserve to be sound, but many won't be if their owners can't get a better hoof product than the toxic, mass-produced conditioners that are currently available."
In that moment, a product – and a brand – was born. Sound Hoof Care.
Today, SOUND Hoof Conditioner is considered the most premium and sole non-toxic, natural hoof conditioner on the market. Though SOUND has embraced modern technology on the business and marketing side so that our products can be discovered and distributed worldwide, SOUND products are still hand mixed, bottled, packaged and shipped to you by Bob Phalen and his family in Southern California.
Quality that is guaranteed
We stand behind every SOUND product and know you will be 100% satisfied with your purchase. We invite you to try it on your horse's hooves. We guarantee that you will notice a positive difference in just one shoeing cycle or we will return your money, no questions asked.
We never planned on creating the world's finest hoof conditioner. It was accomplished by one man's passion and love and caring for his and his customers' animals and his forward-thinking vision of creating a product that not only delivers what it promises, but is safe for the environment.
Production of all SOUND products remains today a labor of love.