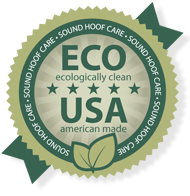 Your Horse Will Love our Natural, USA-Made, Locally Sourced, Hoof Care Products!
Bob & Jeff Phalen, career farriers with a total of 75 years of horseshoeing the world's finest horses, created SOUND® Hoof Conditioner when they noticed the need for a hoof conditioner that actually works. SOUND®, an all natural hoof product made solely of non-toxic essential fats, vitamins, and omega fatty acids is easily absorbed by the hoof and helps prevent dry, cracked hooves while at the same time repelling water during wet conditions. SOUND® was the first hoof conditioner that is also safe enough to use on your own skin and has NO petroleum. To this day the majority of hoof products use petroleum and other glues that can't be absorbed by the hoof capsule. Putting SOUND® on your horse's hooves is like putting lotion on your hands because it deeply moisturizes the hoof. Using petroleum based products is like putting Vaseline on your horses hooves, it will continue to build a barrier that will form a harmful residue over time. Sound is made by farriers who have tested the product for over 20 years. Sound will condition and protect your horses hooves like no other product on the market can.
SOUND® Hoof is a natural, non-toxic hoof conditioner with essential fats and omega acids that was created by two generations of industry leading farriers. As a family owned and operated business we care about the quality and integrity of our product. That means we make each batch by hand, here in the U.S. with a carefully monitored, old-world production process. Taking the time to do things right yields a premium, pleasantly scented Hoof Conditioner of such high quality we guarantee you will notice a positive difference in just one shoeing cycle boasting a money back guarantee no questions asked
---
Features:
REPLENISHES HOOF HEALTH DURING DRY CONDITIONS
REPELS WATER DURING WET CONDITIONS
PROMOTES HOOF GROWTH
PREVENTS HOOF CRACKING & NAIL SPLITTING
SAFE TO USE ON YOUR OWN HANDS & CUTICLES
REPLENISHES HOOF HEALTH DURING DRY CONDITIONS
NO PETROLEUM OR WAX
SMELLS AMAZING!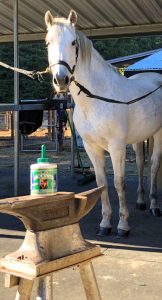 ---
SOUND® hoof conditioner is made in Grass Valley, California, a small town nestled in the Sierra Nevada forest at the base of Lake Tahoe. Sound is made in small batches to ensure quality. Bob, Jeff, and the rest of the family pour their heart and soul into the production of this amazing product. When you buy this product you are supporting a horse family who has given their lives to bettering the health of the horses they love. Many BIG companies have come along over the years and tried to buy or copy our old world recipe but we've never sold it to them. Our mission here is to create products that are made in the USA by leading equine professionals who use and love the products everyday because they work!
How can you show your support? If you love SOUND® hoof products go to your local or online tack stores and ask them to carry our product line! Doing so will help us grow this grass-roots, small business into a brand focused on improving the life of you and your horse. We are so grateful for your support!  Please like and follow us on Facebook.